Engage With Us
We have a deep desire to maintain an ongoing relationship with our graduates! We thoroughly enjoy hearing from our alumni and learning how God has been active in your life.
Over 450 students have graduated from Grace Christian School since our first graduation held in 1992 and our alumni have matriculated to colleges, the military, mission fields, workforces and other callings across the globe, both near and far. Let us know where you are and what you are up to.
Keep us abreast of your life happenings by emailing the GCS Advancement Office.
Connect with your classmates by Joining our Facebook Group
Support us! - By God's grace, we are striving to fulfill the Great Commission. Donations help us do so. Donate online HERE.
Take part in our annual events such as Homecoming and our Benefit Auction. Contact the Advancement Office for more info.
Schedule a tour and see what has changed and what remains the same by emailing the GCS Advancement Office.
Pray that God's will would be worked out in all that we do, for the safety of our students, and for wisdom and endurance for our staff.
Do you know we currently have seven alumni on staff? Apply today!
GCS Alumni News
1992
Joy (Knopp) Greer and her family are living in Suffolk, Virginia. She and her husband, Steve, celebrated their 16th wedding anniversary this summer. The couple have three children: daughter, Tori (14) and sons, Rhys (11) and Teagan (8). Last spring, Joy took over as the Deputy Director for the Healthcare Simulation and Bioskills Training Center at the Naval Medical Center in Portsmouth. She also serves as the Deputy Director for Healthcare Simulation for Navy Medicine East. In addition, she is practicing as a Female Pelvic Medicine and Reconstructive surgeon and teaching in the OB/GYN residency.
1995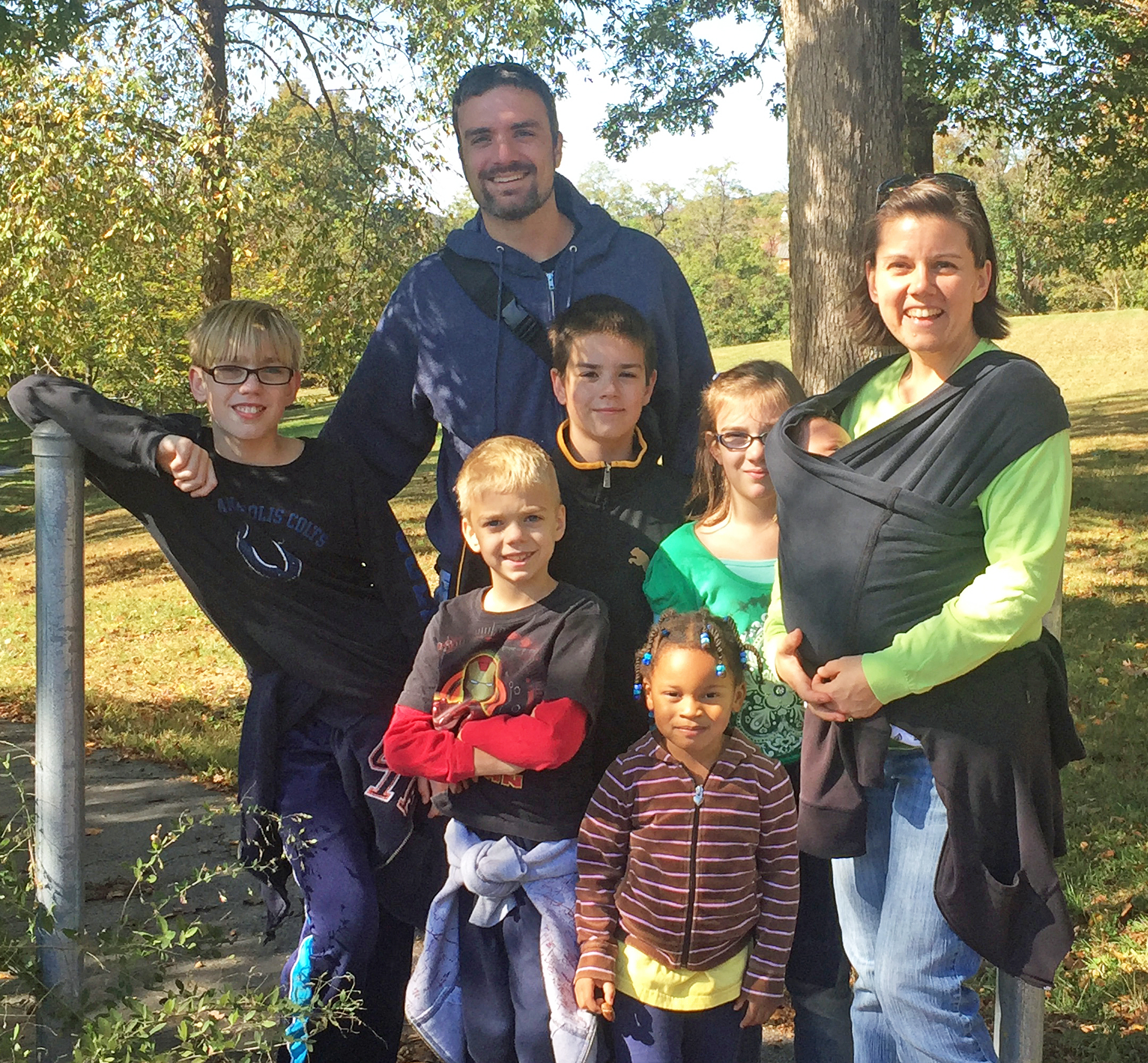 Samuel Knopp and wife, Brandy, live in Jeffersonville, Indiana where Samuel works for Heartland Payment Systems as a National Account Manager, both being responsible for the relationship of one of the company's largest clients and managing a team of National Account Representatives. Samuel and Brandy just recently finalized the adoption of the youngest of their six children, Jace Ezekiel (6 months). Brandy homeschools the other children - Jonathan (13), Ethan (12), Esther (9), Jachin (7), and Eden (3) - and in Samuel's opinion has the more difficult job by far!
Jimmy Foster and his wife, Claire are the proud parents of daughter, Cora Lynn, born on August 8, 2016. Jimmy has been named the Director of Student Life for Liberty University and is responsible for the oversight of student life for graduate, online and commuter students. The family lives in Lynchburg, Virginia.
1996
Bill Sterrett (1996) was named Associate Dean for Teacher Education and Outreach at the University of North Carolina Wilmington, where he has served in a faculty role since 2010. Sterrett recently served as lead Project Investigator for a US State Department Grant called Innovating and Designing Engaging Applications in STEM Education (IDEA-STEM) where he collaborated with several universities to deliver and support professional development and technology applications to middle school STEM teachers in Lahore, Pakistan. Bill and his wife Stephanie, live in Wilmington, NC with their three sons: Will (15), Jack (13), and Graham (11). Read more: UNCW Magazine Spring 2019
2001
Michael Harper and his wife, Clare, welcomed son, Lewis Tate Harper, born on January 1st, 2017. Michael and Clare are owners of The By & By coffee shop in Staunton (formerly Coffee on the Corner).
2002
Stephanie (Card) Thornton and her husband, Ben, added a new addition to their family. Their son, Leyton Joshua Joseph, was born on January 11 and Stephanie reports that older brothers Grayson (6) and Kellan (3) adore him! The family lives in Fredericton, New Brunswick, Canada.
2003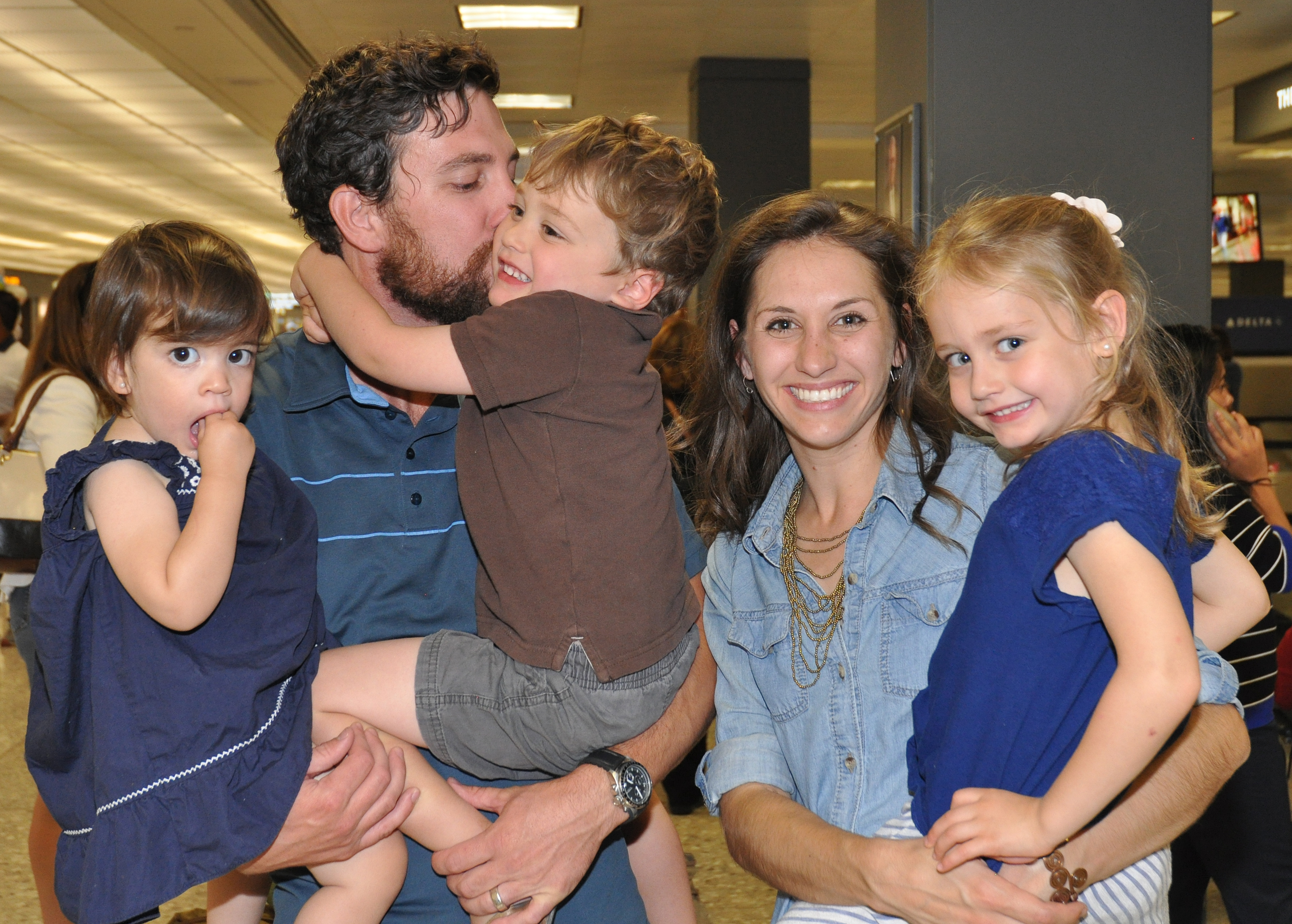 Nathan Kinder returned home in October from a 7-month deployment in the Middle East, where he served his country as an emergency room doctor. He and wife, Cammy, and three children Jayden (5), Lucas (3) and Cora (2) live at the Bolling Air Force Base in Washington, DC. Nathan is a Doctor of Osteopathic Medicine and works at Joint Base Andrews as an emergency room doctor.
2004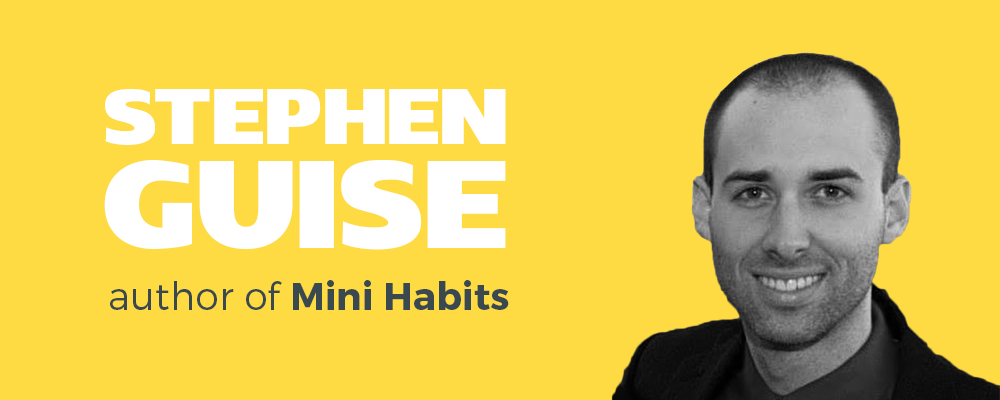 ​Stephen Guise is a best selling author! Following his graduation from Grace, Stephen received a Bachelor's degree in finance from UNC Charlotte. After struggling to get a finance job due to the recession, he began writing about behavior change. In December 2013, he released his first book, Mini Habits: Smaller Habits, Bigger Results, which is now an international bestseller which has been translated into 17 languages. He has since written two more books entitled, How to Be an Imperfectionist and Mini Habits for Weight Loss. Stephen lives in Seattle, Washington where he is working on his second video course that will be based on Mini Habits for Weight Loss. You can find out more about Stephen and his writing at stephenguise.com.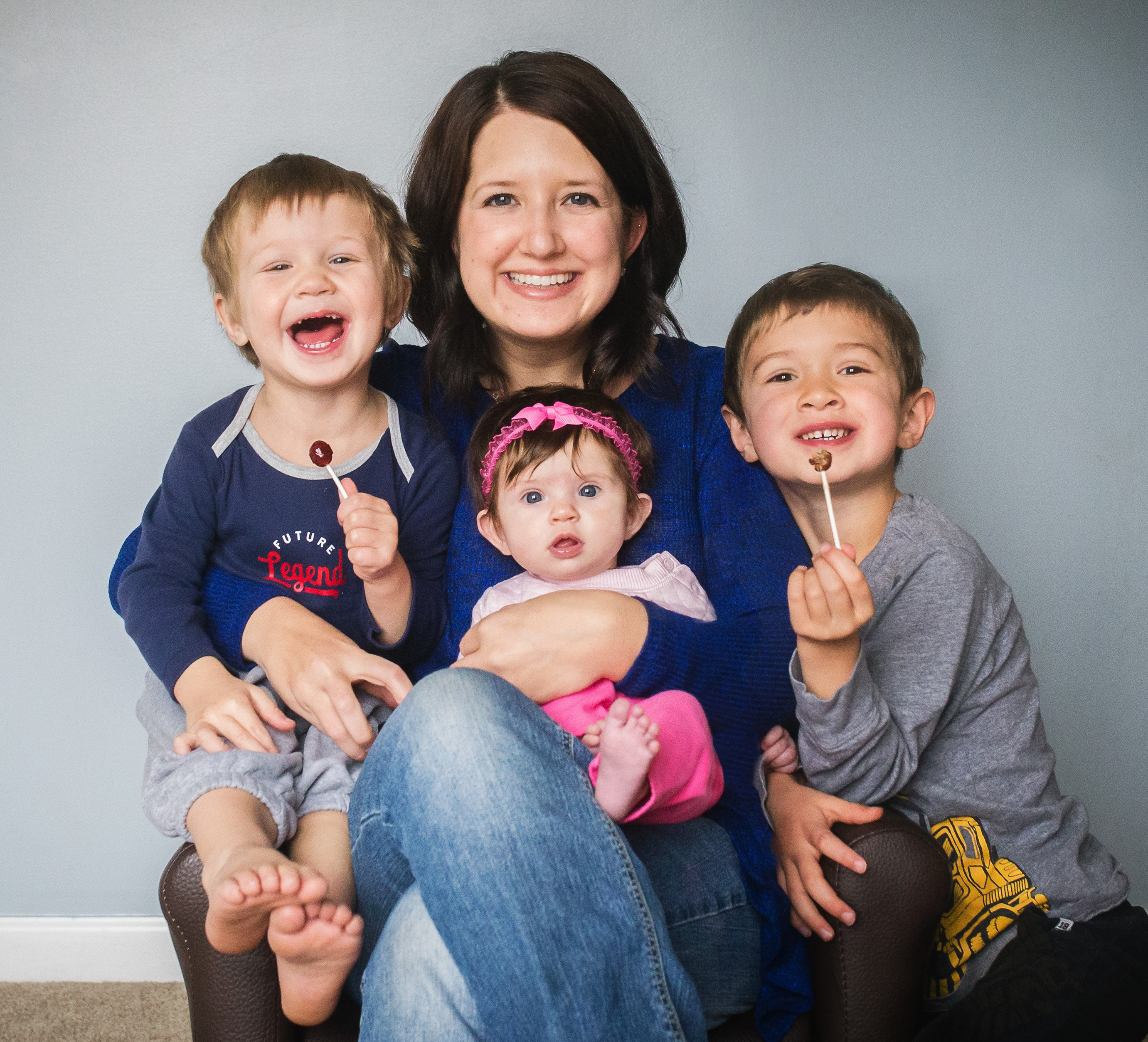 ​Holli (Mancini) Pool and her husband, Josh, welcomed their daughter, Brielle Savannah (Elli) into their family on September 6, 2016. She joins older brothers, Mason (4) and Rylan (2). Holli is a documentary-style family photographer and runs her own business, Holli Pool Photography. She photographs and creates family films of real moments between families (in their homes, in the hospital with a new baby or anywhere else that families are making memories together.
2005

Jessie Kinder and Matthew McMillan were married in November. The couple resides in Lynchburg, Virginia where Jessie is a special sections designer at The News and Advance newspaper in Lynchburg. Matthew works for Craftsman Roofing in Madison Heights.

Lauren (Hostetler) Gardner and her husband, Seth, are the proud parents of daughter, Teegan Xenia, born on September 13, 2016. In addition to enjoying life as a new mom, Lauren keeps busy working part-time as a massage therapist at Pure Health Massage and Bodyworks, as well as coaching classes at CrossFit SAW in Fishersville. She also runs a home-based business, Young Living, which serves to educate people on how to have chemical-free homes. Seth is a full-time youth pastor at Cornerstone Church of Augusta. The family lives in Staunton, Virginia.
2006
Joel Smith is working at James Madison University as their Windows Systems Administrator in the IT Department
2011

Ben and Holly (Wenger) Stoll are living in Arlington, Virginia were Ben is currently starring in the role of Claudio in the production of Much Ado. He continues to audition for future roles and is also working at Barnes & Noble Bookstore. Holly is enjoying her job as a police officer with Prince William County.
2012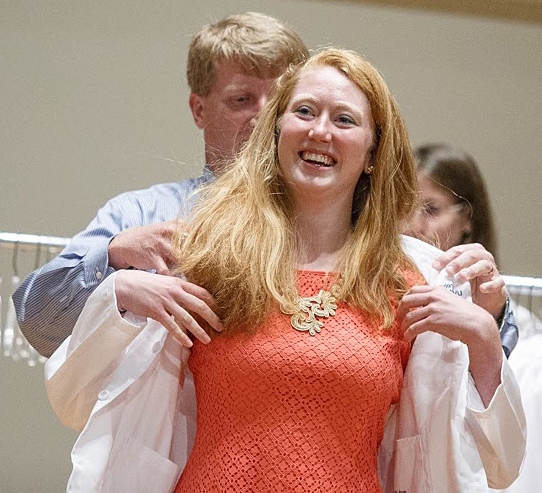 ​​​Joscelyn Seaton is in her second year of medical school at the UVA School of Medicine. This photo shows her receiving her white coat from her father, who is also a doctor, at the the UVA School of Medicine White Coat Ceremony. In July 2016, Joscelyn was sworn into United States Navy. She plans to serve in the Navy as a physician upon graduating from UVA in May 2020.
2013
Nick and Rebecca (Cullinan) Grow both graduated from Bridgewater College in December 2016. Nick received a degree in business administration and Rebecca's was in English. Nick is employed by Augusta County Parks and Recreation as a program coordinator and Rebecca is serving as a middle school math and literature teacher at Grace Christian School and as a brain trainer at Learning RX. The couple resides in Augusta County, Virginia.
Jane Leetun is living in Seville, Spain and working as an aupair.

Hannah Middleton graduated from Lee University in December 2016 with a degree in Graphic Design and Communications. She lives in Cleveland, Tennessee and is working as a graphic designer for a printing company.
2016
Ricky Yeomans is currently taking classes at Blue Ridge Community College and working at Bloommaker USA, Inc. in Waynesboro. In his spare time, he can also be found assisting with Grace Christian School's baseball and soccer teams.